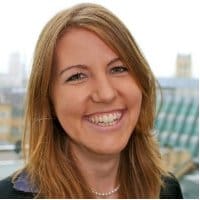 Ashley has spent more than a decade in technology, most recently co-founding and running British Gas Venture Capital (BGVC).
At BGVC, Ashley focuses on investing in start-ups active in areas of future growth for British Gas, particularly along the technology themes of internet-of-things, data analytics, and energy efficiency. She sets BGVC's strategy, and oversees all aspects of the investment process, from origination and transaction execution to portfolio management and exit. She has had numerous board roles with her investments and most recently exited leading internet-of-things provider AlertMe.com for $100m earlier this year.
Prior to co-founding BGVC, Ashley invested in technology companies ranging from gas turbine efficiency to solar to power electronics at CT Investment Partners. Earlier in her career, Ashley worked for Franklin Templeton Investments and the Environmental Protection Agency. She has an MBA from Wharton Business School, and a BSc from McGill University.
Ashley informally mentors investing and technology professionals in career development, informally advises new start-ups, and is regularly invited to speak at events. Outside of work, Ashley spends as much time as possible outdoors, and loves cycling and hiking.