Lieutenant Colonel Sulle D Alhaji | Royal Army Physical Training Corps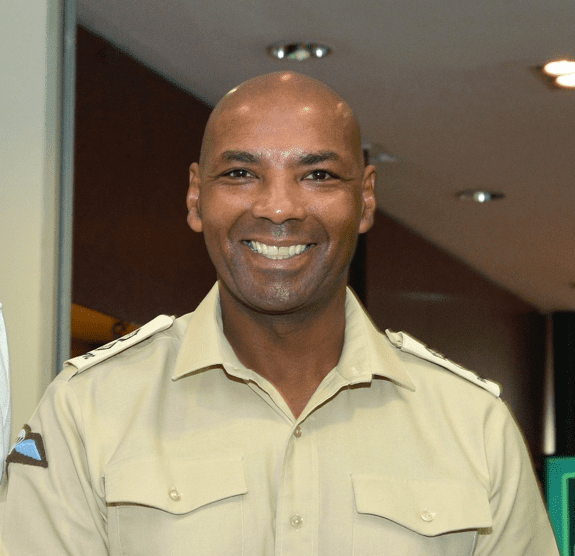 Born in Newcastle, Sulle joined the 3rd Battalion the Parachute Regiment in June 1978 and was posted to Germany, his first active duty was in 1979 in Northern Ireland.
In 1982 he took part in the Falklands War where his unit captured Mt Longdon. In 1984 he served 6 months on an operational tour in the jungle of Belize protecting the border.
In 1986 he transferred into the Royal Army Physical Training Corps where he ensured each unit he served with, was physically fit to be deployed worldwide for any operation, this is also where he learnt the skills to be an effective mentor. He attended Farnborough college in the evenings to study Sport Science and sport therapy. He was promoted up through the ranks and commissioned to the rank of Captain in 2000. He completed the Junior Command Staff College course in 2002 at Shrivenham. Gaining much experience (and further promotion) through a variety of jobs he was selected for Lieutenant Colonel and responsible for designing the assurance process for all physical, adventurous and sport development in the Army. In 2017, he took on a new assignment as the director of the Army Youth Outreach Team, responsible for identifying opportunities to engage with diverse youth communities across the country. During this assignment he was awarded a commendation for an act of bravery from the Chief of General Staff.
Lieutenant Colonel Sulle Alhaji has an interesting story of overcoming adversity, social mobility, bullying, dealing with dyslexia and much more. He uses his story to mentor disenfranchised youths, which includes students at pupil referral units and secure homes. His story is changing the way audiences assess their own situation. Consequently, he won the Business in the City 2018 Best Employer for Race Award for the Army, his contribution ensured the Army won the European Diversity Team of the Year 2018 and is currently nominated for 2020 Soldiering on Awards.