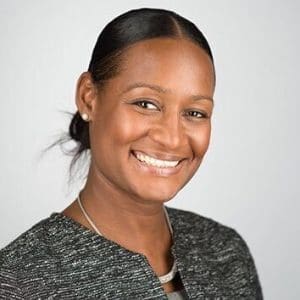 In a professional capacity Rashada is responsible for driving fixed infrastructure business opportunities at Vodafone Global Enterprise. She possesses a strong track record of new business development, account management and consultative selling into Enterprise client organisations offset against aggressive sales targets.
Prior to joining Vodafone Global Enterprise she spent 9 years with Cisco. Rashada joined as the only black female on the highly competitive Sales academy program which was spanned across Europe. She was selected as one of the top 10 graduates in the UK from over 8,000 applicants.
It was during this program that she believed more needed to be done to bring more diverse talent into the organisation. With this in mind and in her spare time she then helped to form and co-lead the Cisco Black Professional Employee Network EMEAR- (CBP) which focussed on promoting inclusive leadership, inspiring and empowering its members to achieve their potential. Through this work Rashada was asked to sit on the board of the global CBP employee group where she led the community pillar advising on different ways to engage the local communities in technology activities.
Rashada was twice promoted during her 9 years at Cisco and worked as Global Business Development Manager covering the EMEAR (Europe Middle East Africa & Russia) region before leaving Cisco in late 2013.
In a voluntary capacity Rashada is co-founder of the innovative social enterprise Your Future, Your Ambition (YFYA) which inspires children and young adults from diverse backgrounds into studying Science Technology Engineering and Maths (STEM) related subjects and pursuing careers in STEM-based industries.
Through YFYA, Rashada helps to bring together big corporations and provides them with a platform to educate, inform, excite and motivate young people from the age of seven to 23 years into an array of career options. Since its launch in July 2012, over 2000 students have attended the YFYA annual event, and 620 students have also participated in the YFYA mentorship programme. YFYA has raised and invested significant finance into community programs which work with young people from Black, Asian and Minority Ethnic (BAME) backgrounds. This has included charities such as 100 Black Men of London, AbleChildAfrica and Street Child Africa.
During her spare time over the last 2 years Rashada has been a volunteer mentor with the 100 Black Men of London Charity where she meets regularly with young students aged between 10 and 14yrs as part of a community mentoring program. Rashada has also volunteered her time abroad in Africa, working in rural villages helping local school children in both Mpraeso in Ghana and also in Mombasa, Kenya.