WeAreTheCity celebrated the winners of the 2017 Rising Star Awards last night, at a prestigious ceremony at NewsUK, London.
Over 200 winners, sponsors, judges and guest attended and enjoyed a champagne reception and welcome by Vanessa Vallely, Managing Director, WeAreTheCity; and Chris Duncan, Managing Director, Times Newspaper Ltd.
Addressing the audience, Vallely said, "It is a great pleasure to welcome all our winners and guests."
"I think we can all agree that The Times have done a pretty epic job."
Speaking about the top 100 winners, she said, "These women were amazing before these awards – all we did is shine a massive light on them."
"So now it's time to shine a light on you."
"Enjoy this moment – life is far too short not to."
Following Duncan congratulated the winners, saying, "I can tell each and every one of you, you are in for a truly inspirational evening as we celebrate the many achievements of WeAreTheCity's Rising Stars winners."
Going on to speak about how far women and gender diversity have come at The Times, Duncan spoke of inspirational women such as Caroline Norton, Miss Wreford, Marie Colvin, Flora Shaw and Christina Appleyard.
However, speaking about how far equality still has to go, Duncan said, "Women still earn £1.34 per hour less than men, with the UK's gender pay gap not currently predicted to close in 2041, the same date we are predicting scientists will be able to erase human memories."
"Only one of those sounds scary."
"These milestones will all come."
"My hope is that our winners tonight will continue to rise and become the next wave of role models and ground breakers within their organisations."
Concluding Duncan said, "So to the winners tonight I would say congratulations in your work to date – the mantle is now passed to you to bring on the next generation as they look up to you and your achievements."
"I look forward to reading about your progress in The Times and The Sunday Times."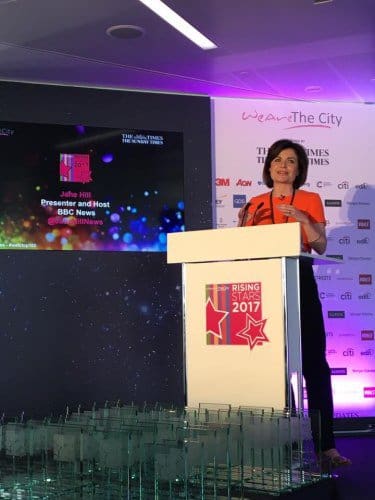 Journalist and BBC News presenter, Jane Hill hosted the awards ceremony, sponsored by The Times & The Sunday Times. Congratulating the winners, Hill said, "I know an awful lot of you will end up on those boards and in the BBC studios being interviewed by me."
"So I look forward to that in years to come."
"Lets see if we can get this trending [on Twitter] and continue the conversation in weeks to come."
Hill then introduced the evening's keynote speakers, Heather Melville OBE, RBS and Funke Abimbola MBE, Roche. Both were previous Rising Star Champion winners and were recently recognised in the Queen's Birthday Honours List.
Abimbola was awarded an MBE for services to Diversity in the Legal Profession and to Young People, while Melville was awarded an OBE for services to Gender Equality.
Addressing the room, Melville said, "This is what diversity looks like."
Abimbola added, "It's really surreal being here as a year ago we were standing here as Champions – and who'd have thought that we would be on the same honours list together."
Congratulating the winners, Melville said, ""Each and everyone of you, you are all role models and you leave here tonight being even bigger role models."
"But please, please, please support each other."
"You are going to be in work a lot longer than me and you'll need your friends."
Abimbola concluded their speech with her favourite quote, saying, "You are the captain of the ship, driver of your destiny, and master or mistress of your fate."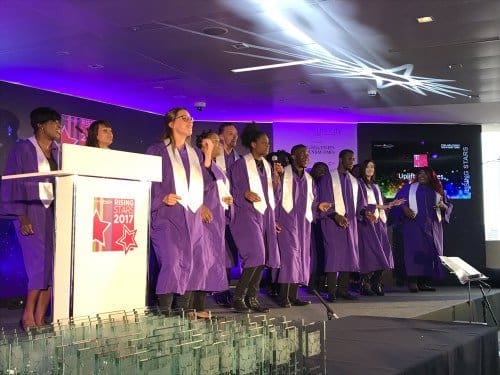 During the interval of the awards presentation, the audience were treated to surprise entertainment from the gospel choir, Uplifted Voices. The choir delivered a moving performance and received a standing ovation from the audience during their rendition of 'Proud Mary'.
Closing the awards, Vallely implored the audience to network with each other, make new connections and to enjoy the moment.
The Rising Star awards were introduced to showcase the UK pipeline of female talent below management level and to create 100 female role models across 20 different industries and professions as well as celebrating the hard work and support of our Rising Star Champions and Company of the Year.
The winners were narrowed down from over 1,250 nominations and were judged by a panel of 33 independent judges. Over 35,000 public votes were received for the 200 shortlisted nominees from around the world.
The winners of each category can be found in alphabetical order below. Full details of each winner can be found here.
Rising Stars in Banking – Sponsored by Societe Generale
Annie Mbako, BNY Mellon
Ashleigh Harvey, RBS
Mary Mosope Adeyemi, Bank of America Merrill Lynch
Rachel Scandling, Barclays
Zainab Atta, RBS
Cassandra Cox, Director FX and Emerging Market Sales, Societe Generale: "This is our third year sponsoring and it is a great honour to be here on behalf of a company that is very dear to me."
Rising Stars in Charity – Sponsored by Cancer Research UK
Natalie Campbell, A Very Good Company
Tanya Compas, The Change Foundation
Tonia Ashikodi, Mumtrepreneur Club
Trishna Bharadia, MS Society
Yasmine Davies, Autistica
Rising Stars in Construction
Fiona Barry, London Underground
Katie Kelleher, Crossrail – Laing O'Rourke
Loretta Lipworth, Balfour Beatty
Sharon Slinger, Carillion Plc
Vicci Jarvis, Interserve Developments
Rising Stars in Consulting – Sponsored by EY
Anisha Seth, EY
Bijal Majithia, EY
Gill Hemming, PwC
Hollie Haslam, Mercer Limited
Sayli Chitre, Oliver Wyman
Zeynep Meric-Smith, Director, Co-leader UK Hedge Funds Sector, EY: "We can't do it with just women, we need to bring the men along too."
Rising Stars in Defence – Sponsored by The Royal Navy
Clair Ryer, RAF
Claire Nixon, RAF
Emily Fowles, Royal Fleet Auxiliary
Laura Dietz, Royal Navy
Patricia Patilla Sanchez, Rolls Royce Plc
Rising Stars in Diversity – Sponsored by Aon
Leyya Sattar, The Other Box
Louisa Lombardo, Chubb
Lucile Kamar, RICS
Miisa Mink, DrivenWoman
Morenike Ajayi, Career Nuggets
Katherine Conway, Head of Diversity and Inclusion and Community Affairs, Aon: "I want you to champion inclusion – not just for women but for black women, for gay women and for bi women. For those with mental health issues and disabilities and for our older women."
Rising Stars – EA/PA
Debra Jacobs, RBS
Elizabeth Mendes Da Silva, Barclaycard
Emily Walker, Liverpool John Moores University
Jane Brazzill, PwC
Katie McEwan, Ann Summers
Rising Stars in Education & Academia – Sponsored by Edit Development
Anna Howard, London Southbank University
Benny Bonsu, Girls in Sport Foundation
Janice St John-Matthew, University of the West of England
Jaspreet Sangha, St Marylebone School
Natalie Scott, St Joan of Arc School
Sonia Bate, Managing Director, EDIT Development: "I feel like I'm in amazing company tonight and it is really a privilege."
Rising Stars – Entrepreneurs – Sponsored by Citi
Cynthia Davies, BAME Recruitment
Dr Ava Eagle Brown, Ava Eagle Brown
Jenny Garrett, Reflexion Associates
Lalita Devi Purbhoo Junggee, Nineteen Fifty Design & Print Co. Ltd.
Tanya Dennis, Eventsuncut
Rising Stars in Fintech – Sponsored by Streets Consulting
Carla Mazzaccherini, Morgan Stanley
Frida Jonsdottir, Deloitte
Isabel Cooke, Barclays
Katerina Domenikou, Bloomberg
Nana Yaa Mensah, Worldpay
Julia Streets, Founder and CEO, Streets Consulting: "It's about leadership, vision and legacy."
Rising Stars in HR & Recruitment – Sponsored by LinkedIn
Kirsten Doherty, Accenture
Laura Herbert, Thales UK
Laura Pettitt, Insignis Ltd
Maria Ursu, Vodafone
Valeriya Nefyodova, BP
Anna Baird, Global Client Executive, LinkedIn: "There are some fantastic women in this room."
Rising Stars in Insurance – Lloyd's
Charlie Lawson, Hiscox
Niamh Carty, AIG
Omo-Bisi Daniels, AIG
Salome Santos, Marsh
Victoria Rawlings, The Replacement Service
Pauline Miller, Head of Diversity and Inclusion, Lloyd's: "We are making progress – we are moving the dial – rapidly and steadily. But we've got a long way to go and the pipeline is where to start."
Rising Stars in Investment Management – Sponsored by Northern Trust
Claire Meier, Northern Trust
Emma Clarke, Beaufort Investment Management
Emma Jackson, Legg Mason Global Asset Management
Nandini Ramakrishnan, JP Morgan Asset Management
Siva Karthikeyan, Aon Hewitt
Sarah Boddey, Chief Diversity & Inclusion Officer, Northern Trust: "Claire Meier is winning this award while on maternity which just goes to show you don't have to be forgotten while on maternity leave."
Rising Stars in Law (The Lynne Freeman Award) – Sponsored by Reed Smith
Denise Nurse, Halebury
Janvi Patel, Halebury
Naomi Pryde, Dentons
Sally Penni, Kenworthy's Chambers
Suzanne Szczetnikowicz, Milbank, Tweed, Hadley & McCloy LLP
Rising Stars in Property & Facilities Management – Sponsored by Kier
Alison Bowen, Interserve
Doga Tasli, G4S FM
Hannah Jones, Cushman & Wakefield
Rachel Morris, Derby Cathedral
Sahar Rezazadeh, CBRE
Pip Prongué, Managing Director Property, Kier: "More than ever I think our industry needs awards."
Rising Stars in Public Sector – Sponsored by GDS
Annette Henley, Home Office
Fiona Galvin, Transport for London
Imogen Thompson, Transport for London
Lauren Bottomley, Child & Adolescent Mental Health Services
Megan Key, Ministry of Justice
Rising Stars in Sales – Sponsored by Worldpay
Analyn Pelayre, Good E-Learning
Fiene Fischer, Bloomberg
Sara Diggle, Brother UK
Selina Tyers, Hermes Investment Management
Sonya Barlow, Dunnhumby
Peter Wickes, SVP Corporate Account Management, Worldpay: "I think you should all give yourselves a round of applause."
Rising Stars in Science & Engineering – Sponsored by 3M
Athena Livesey, WSP
Claire Gott, WSP
Marina Parry, CRUK Manchester Institute, UOM
Mary Akangbe, NHS
Niri Arambepola, WSP
Wynne Lewis, Research & Development Director, 3M: "This is an amazing room full of inspiring role models and we have the opportunity to celebrate five of them in the science and engineering category."
Rising Stars in Sport – Sponsored by PedalSure
Charlotte Richardson, K-Sports Cobdown
Kare Adenegan, British Paralympic Association
Rhia O'Reilly, Professional Wrestler
Victoria Knowles-Lacks, The Shotgun & Chelsea Bun Club
Zainab Goreja, Student
Philip Lochner, CEO, PedalSure: "It is really refreshing and inspiring to be involved with the Rising Star Awards. Use this opportunity to change how we want to be remembered."
Rising Stars in Technology – Sponsored by Morgan Stanley
Anneclaire Van Not, DXC
Beverley Newing, Oxford Computer Consultants
Carole Logan, Equator
Lauren Murtagh, BT
Nicole Covey, IBM
Rising Stars Champion Award – Sponsored by Oliver Wyman
Amali de Alwis, Code First Girls
Chuck Stephens, Google
Liz Dimmocks, Women Ahead & Moving Ahead Group
Mohammed Zafran, All 4 Youth & Community
Ruth Oshikanlu, Goal Mind Limited
Company of the Year Award – Sponsored by Barclays
Save
Save
Source: WeAreTheCity – Information and jobs portal for business women
Save