WeAreTheCity hosted an evening of celebration for over 200 women who were shortlisted for the 2017 Rising Star Awards.
Held at Bloomberg, London, the event brought together those shortlisted across 22 categories, judges, previous winners and speakers including founder and director of Streets Consulting, Julie Streets and CEO of Company Shortcuts, Serial Entrepreneur and Investor, Lara Morgan.
Pamela Hutchinson, Head of Diversity and Inclusion at Bloomberg welcomed the guests and said, "We are thrilled to be hosting the Rising Star shortlist event for the third year running."
"We were there at the beginning and we will continue to be with you."
"As you rise remember to bring someone with you, because in numbers there is strength."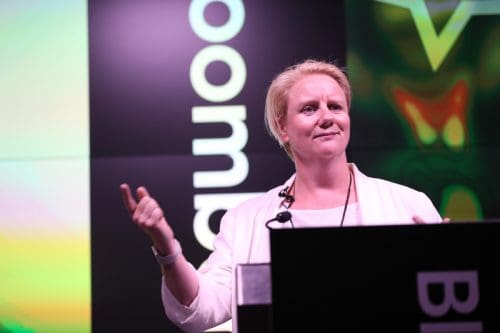 Opening the night, Streets got the audience laughing with her comedic stories but also spoke of the need for more women.
She said, "There is an appetite for change but it comes down to those that sit on boards."
"It's about leaving the organisation better than when you began."
She reminded the shortlist that they could become those leaders, saying, "You're all here because people nominated you – they saw something in you."
"It's all about taking the initiative. It's all about you."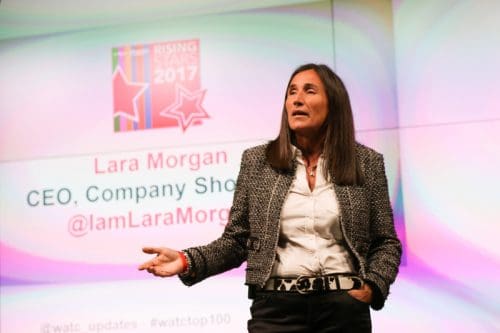 Picking up from Street's inspiring message, Lara Morgan gave her advice on rising to the top.
She said, "If a buffoon like this can be this lucky, then maybe you can make your own luck to."
"You have in your hands whatever you want to do in life."
"The world is a very small place and it truly is your oyster."
"Have you got a plan? Not just for your career, but for your life, your health, your wellbeing, spirituality."
"Share your knowledge. Take someone with you – in fact take a sodding army with you."
"Work hard on yourself, then work hard for someone else."
"I want you to have loads of energy. Become so passionate that you become infectious."
"Pick wisely those that you surround yourselves with."
"Blag it like the boys."
"Life is short but there is an awful lot to get out of it."
"Think very hard about where you want to go and what you want to do and just start doing radical, cool stuff."
Taking to the stage, Vanessa Vallely, Managing Director of WeAreTheCity said,
"It's absolutely wonderful to be back at Bloomberg."
"We have been long talking about women on boards and don't get me wrong, we need them – but if we don't invest in you guys then we are never going to solve this problem."
"My call to action for you is to be visible."
"You are as much a part of our family as everyone else."
A panellist of last year's winners, including Hannah Cotton, Cheryl-Anne Sanderson, Lorraine Eyers, Claudine Adeyemi, Manisha Taylor, Lauren Garey and Elisha St Hilaire, were interviewed by Julia Streets and they spoke of winning the award, career advice and what had happened since.
When asked how the award had helped them, Eyers said, "The awards were the best thing that ever happened to me."
"I came back with some fresh views and new opinions."
Sanderson continued saying, "The awards give you the confidence to go out there."
Cotton also spoke of the confidence that the awards had given her. She said, "When I won I had no idea of the scale and force that these awards have."
"It wasn't until I started attending Careers Club events that I realised I am a powerful human being."
Moving on to career tips, Garey advised, "Really push yourselves to do something you're not necessarily very good at."
Cotton said, "No doors will open for you, you have to make it happen."
"You've got 200 opportunities here tonight. As Vanessa said we are all a family."
Inspired by the speakers, the audience were encouraged to network and make new connections.
Now in its third year, the Rising Star Awards are the first to focus on the UK's female talent pipeline below management level. Through these awards, WeAreTheCity will celebrate 100 individual female contributors that represent the leaders and role models of tomorrow. The Rising Star Champions category also recognises the efforts of senior leaders, male and female, who are actively supporting the female pipeline outside of their corporate responsibilities.
This year, WeAreTheCity are also pleased to announce a new category to our awards, Company of the Year, which recognises the achievements of a company who can clearly demonstrate that they are actively supporting and developing their female talent pipeline through their initiatives, training, development programmes and/or internal employee relations groups.
For more information about the Rising Star Awards and to cast your vote, click here.