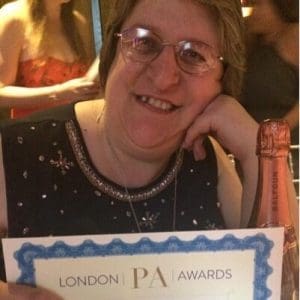 I am a passionate and busy PA working at PwC where I work for 3 partners and 3 directors. I have been here since 1988 and love working here because it is a great place to work – lots of opportunities, and a bunch of very talented people. Each of the partners and directors I work for require different levels of my time – the busiest being the main partner I look after and he says I am an essential part of his life – his job takes him to some of the most challenge places around the world (Congo, Pakistan, Kenya, Kosovo, etc) and so this involves a lot of travel, including obtaining visas – often at short notice which results in major diary management. I also help him to do what he loves at PwC, he runs our international aid consulting business but he's also hugely passionate about strength based leadership, diversity and strength based development, so I help him make sure he gets to deliver his day job and keep him organised to do more of what he loves. One of his events are called Genius Power Dreams workshops – which he created about 4 years ago and these workshops are run every other month and I do all the administration for it which involves diary management, booking rooms and registration – we currently have around 500 people on our mailing list for these events – of which between 20 and 60 people attend each session. I also help him keep healthy by carefully scheduling hospital appointments and check-ups – he had heart failure last year and I have helped keep him going by scheduling hospital around his passions at work.
Over the last 5 years I've become increasingly involved in the PwC International Development business, not only do I support the main Partner in this business but I also get involved in helping the entire team when it comes to events and international travel (including flights and visas), this can be very complicated and often requires last minute country evacuations and flight changes due to the changing security situations in many of the countries that the team operates in. Based on this work I've now been asked to take on another Partner, the new leader for our UK/Africa Alliance, his schedule will no doubt be a nightmare and will require complicated travel in and out of African countries, my knowledge and experience with the International Development team makes me perfect for the role with him.
Finally, my main Partner is also a trustee for 2 charities, Diversity Role Models and Action Breaks Silence. I've been supporting him in getting board meetings scheduled and helping the charities to get their marketing information refreshed. I've been able to use the full capability of PwC's design team and facilities team to make sure we are supporting these charities as much as possible. For ABS, we arranged some Self Defence Training for PwC staff, to which the team from ABS came along to do for us – we had over 30 attendees attend this with some fantastic feedback. He is also heavily involved in working with Stonewall and also National Diversity Awards.
I have a vast knowledge about the firm and am often used as the point of contact for new joiners, or employees from our regional offices if they need help in any way. I am known as the "go-to" person!! Last year I was extremely proud to have won the London PA of the Year Award for the Above & Beyond Category – beating 65 other nominees.
Outside of work, I commute to Kent by coach and have been doing this for the last 20 years, I became a ticket collector on the coach about 18 years ago, and then about 6 years ago I was asked if would become the supervisor – so I currently manage around 25 ticket collectors, ensuring that all our coaches have cover, arranging cover and also meeting/interview/train new collectors – and all whilst commuting to work!! We also keep chickens at home and so I am known for selling my eggs in the office!!