WeAreTheCity hosted an evening of celebration for over 200 women who were shortlisted for 2016's Rising Star Awards.
Held at Bloomberg, London, the event brought together those shortlisted across 21 categories, judges, previous winners and speakers including BBC Radio 4's Jane Garvey and leader of the Women's Equality Party, Sophie Walker. See the event in pictures here.
Pamela Hutchinson, Head of Diversity and Inclusion at Bloomberg welcomed guests and introduced the evening saying, "I am completely overwhelmed by the range and depth of female talent in the room."
Jane Garvey then took to the stage, exclaiming that there was "so much energy in this room and environment."
The Woman's Hour host told the audience: "You are phenomenal. I am terrified frankly by the ability of the media category out there. Seriously though, we need your energy, we need your enthusiasm and we need your ideas."
Women's Equality Party leader, Sophie Walker was met to a roaring round of applause and said, "It's such a pleasure to be here this evening, standing in this room of brilliant women, celebrating your brilliant, brilliant achievements."
"The depth and breadth of work and achievements blew me away. I began to wonder what an earth I was doing with my time."
"We are all here because we all want to be the best us that we can be."
"Women are not a niche, or an after thought or a detail on a manifesto. Women have always been told it's up to us to change. We have a generation of brilliant and talented women."
"You are all ambassadors for the positive power of diversity and change."
Concluding the talk, WeAreTheCity founder and managing director, Vanessa Vallely said, ""This is an opportunity to meet new people and grow your network.  In this room are future mentors, sponsors and people who can and will help you in your career."
"You are now part of the wider WeAreTheCity family and with that comes great responsibility! Help each other, help others and don't be afraid to ask for support when you need it, if we cannot help you, we will point you to an organisation or individual who can."
"Connect, have fun and make sure you follow up with each other, make the magic happen!."
A panellist of last year's winners, including Dara Kirton, Debbie Grimshaw, Alicia Miller, Rashada Harry and Vinita Ramtri, were interviewed by Jane Garvey and spoke of winning the award, career advice and what has happened to them since.
Dara Kirton said winning the award was 'completely unexpected but awesome'. Continuing, she said, "Since the award, PwC have shared the story. There has been a lot of profiling – I got a promotion at work and won further awards."
Debbie Grimshaw said, "It's been an absolutely huge boost. It's opened so many doors and given me a platform to launch my career, given me a voice."
When asked how to get a pay rise, Alicia Miller said, "Ask for it. Find your value, know what you are worth and live what you are worth – and find a way for people to realise the value you bring to your role and organisation."
"If you don't shout for you, who will?."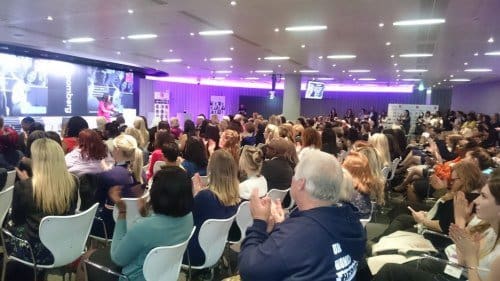 After the speaking, the audience was encouraged to network with people they had never met and make contacts. Attendees were also invited to have a free headshot taken by The Headshot Guy.
Now in its second year, the Rising Star Awards are the first to focus on the UK's female talent pipeline below management level. Through these awards, WeAreTheCity will celebrate 100 individual female contributors that represent the leaders and role models of tomorrow.
This year, WeAreTheCity are also pleased to announce a new category to our awards, Rising Star Champions, which recognises the efforts of senior leaders, male and female, who are actively supporting the female pipeline outside of their corporate responsibilities.
For more information about the Rising Star Awards and to cast your vote, click here.