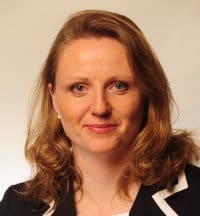 Emma Couper is the EMEA Risk Regional Business Manager, within the Chief Risk Officers, Chief Operating Officer's team. She is based in London.
Emma joined Bank of America Merrill Lynch in May 2010 as part of the Business Management team supporting the Head of EMEA Technology Infrastructure. She moved into her current role in August 2011 and was promoted to Director in December 2014. Emma has won two Global Diversity and Inclusion Awards (2012 and 2013) and was nominated again in 2014.
Prior to joining the firm, Emma was a Commissioned Officer in the British Army, where she reached the rank of Major. Emma was a logistician by trade but during her last few years became a humanitarian specialist and led on the interface between the military and civilian communities. During her service she was posted in Germany, UK and Canada and deployed on operations to Bosnia, Kosovo, Afghanistan and Iraq.
"My time at Bank of America Merrill Lynch is where I have transitioned from a Military Officer to a civilian and I have been very privileged to undertake this in such a supportive environment – it has been truly intellectually demanding and ultimately rewarding. For me our people/team mates/ employees are all important so I am very grateful that I have been able to create, drive and empower a number of initiatives within EMEA Risk and the wider firm to support their personal & professional growth.
I am a great believer in the benefits of stepping out of your comfort zone both in and out of work, simply to remind myself that 'to succeed, you have to try'.  As such I did my first ever triathlon at Windsor in early June over the Olympic distance. I was the only one of my friends who had not done a triathlon before and was utterly terrified – but I got round and actually rather enjoyed it.
I am now ready for the next challenge which will see me becoming business manager to the Chief Executive Officer at Aviva Investors in September 2015. I feel that my career in the financial sector is just beginning and as such am very grateful for this nomination."