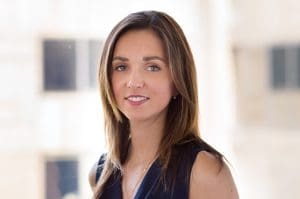 I am a trainee solicitor at the firm of Squire Patton Boggs (UK) LLP but alongside this I have held a number of positions within international badminton and am also currently a member of British Showjumping's Disciplinary Panel. I set out below a brief outline of my journey, my education, publications and awards in the sporting world to date.
JOURNEY
I would like to start by saying that I'm incredibly honoured to have been nominated for a WeAreTheCity Rising Star Award and would like to thank whoever was responsible for nominating me. Throughout my sporting and professional life I have been inspired by both male and female role models. Consequently, I am a strong believer that the celebration of female accomplishments plays an essential part in inspiring others and that it can help to close the gender gap by showing other females what is possible. Therefore, regardless of the outcome of my own nomination, I believe that the Rising Star Awards are an important aspect of supporting and promoting female talent in the City.
My life in the sporting world began in earnest in my early teens, although, there had been a great many years before that stage where my parents ferried me round from tournament to tournament; from city to city; and from one cold badminton hall to the next. I am sure that is a debt it will be nigh on impossible to repay. However, I hope that it went someway to making their sacrifices feel worthwhile that for approximately 5 years I was a full time international badminton player representing Scotland at European, Commonwealth and World Championship level. Very unfortunately, through a combination of illness and injury in my mid-twenties, my career was cut short and I was forced to reconsider my future.
By the time I retired, I was already heavily involved in sports administration and governance as Vice-Chair of the World Badminton Federation's Athletes Commission (a peer elected body of 6 that represents the views of the athletes to their International Federation). It was my enjoyment of this role that prompted my decision to re-train as a solicitor following the completion of my undergraduate degree in Chemistry. In 2013 I was appointed Chair of the Athletes Commission, a role which I carried out for approximately 2.5 years with my term coming to a natural end earlier this year. Working with the athletes and representing their view to the World Badminton Federation was a role I was passionate about and one in which I took great pride. I was the first female Chair of the modern day Athletes Commission since Gill Clark MBE who was President and Chairman of the Athletes Commission's predecessor the International Badminton Players' Federation from 1990-1995. I was also incredibly proud that my election meant I was one of the 6 women who became Council Members of the World Badminton Federation in 2013. This was a historic first for our International Federation and one which meant that we were one of the few International Federations to surpass the International Olympic Committee's then recommendation of 20% of women on decision making bodies in sport. During my term as a Council Member of the World Badminton Federation, we collectively worked together and approved: (i) the introduction of Hawk-Eye to some our premier events, (ii) a US$400,000 end of year bonus for top 10 Superseries players, and (iii) a record breaking deal that would see the end of year Superseries finals be located in Dubai for at least 4 years. During my time in the Athletes Commission I was also proud to, as Vice-Chair, personally contribute to the Athletes Commission's successful campaign to have a controversial clothing regulation (that required females to only wear skirts or dresses in competition) overturned and, as Chair, to successfully argue that (for purposes of protecting the players' health and safety) the regulations relating to the standards and types of flooring that could be used in competition required tightening up.
My experience as a Council Member of an International Federation also opened up a great many doors for me professionally and allowed me the opportunity as a young female sports administrator to develop my network and enhance my profile. It was through this role that I was asked to Chair the Women in Badminton Working Group for Badminton Europe and to participate in UK Sport's International Leadership Programme. As I have previously mentioned, I am passionate about promoting the achievements of women and also firmly believe that visible role models are an important part of attracting and retaining young and talented females to an organisation. To that end, during my term as Chair of the Working Group we: (i) published regular "Women in the Spotlight" features on the Badminton Europe website, (ii) put on two international conferences on Women in Sport, and (iii) hosted a networking breakfast for International Women's Day 2014 in conjunction with the All England Badminton Championships. UK Sport's International Leadership Programme, was a great opportunity for me to grow my profile within the UK, to learn from experienced sports administrators and to develop my professional skills. It was through the programme that I was offered my current position with British Showjumping and for which I can now be called upon to adjudicate, review & punish potential breaches of British Showjumping's Disciplinary Rules by their members. While I will shortly be taking up another post within badminton, I am looking forward to doing so alongside a new challenge in a new sport. I hope to be able to bring my experiences from badminton to my role in Showjumping and to learn as much as possible from my new colleagues in the Equestrian world.
Despite retiring from international sport, I have retained my competitive mentality and love of an active lifestyle. I am now a regular runner and gym goer, or as my flat mate would say, addicted to exercise(!). I have put these to good use by participating in a number of charitable sporting events including the MoonWalk 2012 (Edinburgh) and 2015 (London) for WalkTheWalk, the Halloween Moonriders (2014) and the Loch Ness Marathon (2013) for Kidney Research. I really enjoy the physical challenge and raising money for worthy causes and hope to continue participating in these throughout my professional career.