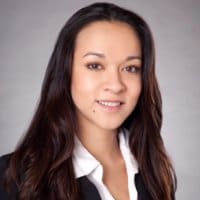 Nathalie Majlis joined Barclays's Corporate Banking Insurance Coverage team in 2013. She is responsible for building strategic relationships at the C-Suite and Treasury level to deliver Barclays' global Corporate Banking product capabilities including cash management, debt and trade finance as well as risk solutions in the context of foreign exchange and rates. Nathalie also focuses on excess reserve financing and collateral transformation solutions for life insurance companies.
Nathalie has over 12 years of experience in the insurance and banking sector. Prior to Barclays, she has worked at HSBC in Dusseldorf, Hong Kong, London and New York for over 7 years. Her experience includes roles insurance and FIG coverage roles in corporate banking and debt capital markets as well as corporate and investment banking strategy positions.
Prior to HSBC, Nathalie ran an insurance and financial broker franchise business for three years and later specialised in mortgage sales.
Nathalie attended the University of Cologne and studied Business Administration with focus on Corporate Finance and Insurance Science.